For most people, the bathroom has become a personal sanctuary. It is not just a place to wash off the grit. It is your personal spa, where you relieve the stress of the day and relax. So, when you are renovating your bathroom, you are not just creating a practical bathing space; you are creating a place when you can get away and be yourself. Every aspect and component has to come together towards this goal while also meeting the practical needs of bathing.
If you are building a new home or planning a renovation, the following list of the hottest upcoming bathroom design trends in 2018 should get your creativity going. It includes some really cool bathroom designs for 2018 that you can borrow and adapt for your specific needs.
1. The Bathroom is Getting Efficiently Small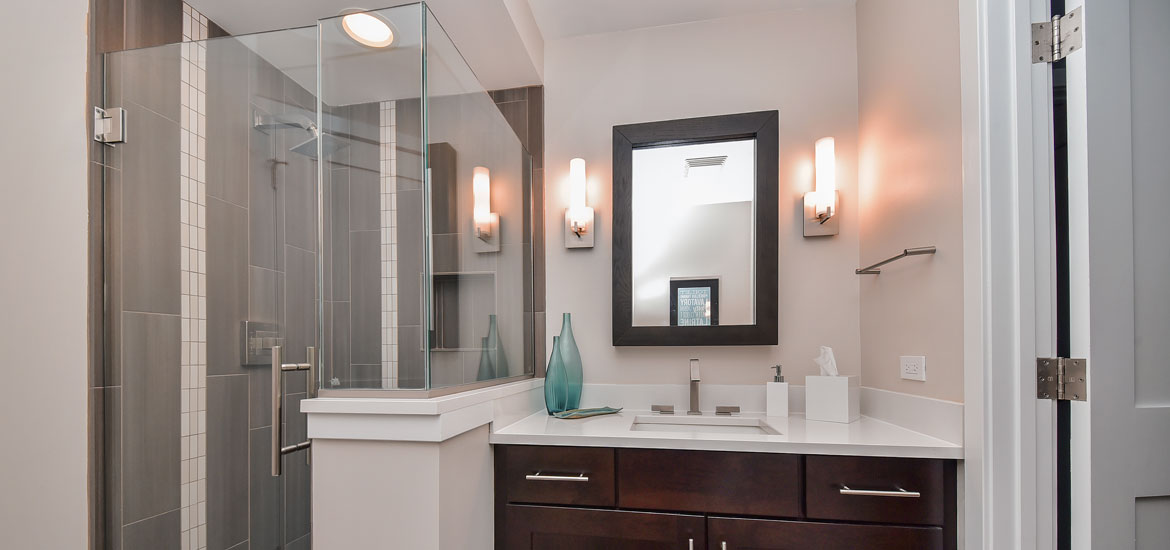 For many homeowners, their dream bathroom is inspired by those luxury magazine pictures with enormous double tubs, his & her cabinets, and expansive marble flooring. But in recent times, some have discovered that smaller bathrooms can be just as great. The 2018 bathroom interior design trend will be towards smaller bathrooms with a focus on efficiency and small-scale luxury.
The secret to making small bathrooms comfortable, and not cramped, is the efficient use of available real estate. Every inch must be put to good use. You will see freestanding single-person tubs starting to get more popular. Smaller but artfully designed toilets and smaller uniquely designed sink bowls will also begin to make a presence in the bathroom.
Other companions to scaled-down bathrooms include space-saving walk-in showers, more shelving instead of cabinets and large floating vanities to increase the perception of space. As with large bathrooms, small bathrooms can also be decked out in wall patterns or interesting floor graphics especially those that make the room feel bigger.
If you are short of space in your home, you do not have to miss out on the magazine bathroom–you can still renovate your small bathroom into a relaxing sanctuary.
Related: Big Ideas for Bathroom Remodeling in Small Spaces
2. Toilets Go High-Tech
For years, Japan has been the undisputed leader in high-tech toilets with other countries seemingly okay with retaining the same mechanism for decades. But homeowners are starting to get interested in a bit of tech in their toilets.
The 2018 high-tech toilet will see things like seat warmers, automatic lid openers and slow close features, an adjustable air dryer, built-in deodorizers and so on. Another feature available, that I bet you never thought of; is a wireless music player that automatically turns on when the lid is opened.  It shuts off when the lid is put back down. The jazz and nature tunes are a good alternative for those who do not carry books (or phones) into the bathroom.
It is not just the toilet that is going high-tech. The entire bathroom will see a few innovations in 2018. You can have a smart shower that automatically knows your preferred temperature and turns on your favorite tunes during shower time. Or you can add a small fridge within your bathroom cabinetry to keep medicine and drinks cool. There are also faucets that turn on automatically when you put your hands under them and turn off when you are done.  Take a look at our design portfolio for remodeling ideas.
3. Brass & Gold Tone Fixtures are Making a Comeback
Erase the memories  of your Grandparent's bathroom brass faucet, because this lovely new warm toned gold plumbing fixtures will become your new go to.  This new tone twist is the perfect complement to the cooler gray paint colors that have become extremely popular in recent years.   The warm gold tone add just the right amount of depth, dimension, and luxury feel to any space.
Homeowners love the change to warmer accents with the brass/gold toned bathroom fixtures versus the traditional shiny polished chrome which conveys a more cool, modern, and sleek feel. Offered in new finish options like in satin, matte, and spun gold this subtle change is just what was needed to add that classic traditional element to any space.  With the added bonus of keeping fingerprints and water spots hidden. This warmer tone has become the accent pieces of a room, with complimenting hardware, light fixtures, and mirrors as well.
Look around and you will find more gold tone items than you think.  The reason for the comeback–it just looks great in so many different style settings.
4. Vanity Lighting
The bathroom vanity area usually consists of a cabinet, countertop, faucet, and hardware..  Secondary, we think of the mirrors and lighting. But these two items are just as important to the function of the bathroom.  Using lighting strategically can make a world of difference, so not only the bathroom shines brightly, but so do you.  Not only in style but function as well.
The 2018 bathroom design trends lend ones focus on lighting schemes.  To highlight this mostly functional space, homeowners are using creative lighting techniques, fixtures, and dimmers to create a luxury and relaxing feeling.
There are many lighting styles you can use for the vanity area including light bars and wall sconces, but don't forget about using small pendants as well. They can be an stunning addition. For larger bathrooms, it's not uncommon to see a chandelier near the whirpool tub or centered in the space for just the right amount of glamour.
The various lighting options not only helps with makeup application, it creates better bathroom aesthetics.
5. Underfloor Heating Systems and Under Counter Appliances
If you bought a pair of slippers just to escape the cold sensation on the bottom of your feet while walking across your bathroom floor; then it might be a good investment for you to consider adding a heating system under your floor.  When the temperatures outside are dropping–your wish could become a reality.  Underfloor heating can be used with a variety of flooring options like:  tile, concrete, vinyl, and wood to name a few.   But in a bathroom, the cold tile can transform into a beautiful soothing warm floor.  Heating systems not only provide heat, but they can also reduce noise levels and possible allergic reactions since there are no air currents disturbing dust.
More and more technology is being included in bathrooms, which means more small appliances are being integrated.  For instance, some luxury bathroom designs now feature a beverage center or under counter refrigerators near the makeup area or vanity for your medicines or organic facial remedies.  Or you may find some home bathroom designs featuring warming drawers for linens & robes. Aside from the traditional dryers in the makeup area, you can also have wireless music systems, TV's, cooling or warming systems, and so on.
The bathroom used to be the place where electric appliances were a no-no. Now, it can rival the kitchen in the number of gadgets and the amount of tech in it.  This trend will continue in 2018, especially in master bathroom designs.
Related: Your Guide to Radiant Floor Heating: The Pros and Cons
6. People Still Love Neutral Styles But With Organic Undertones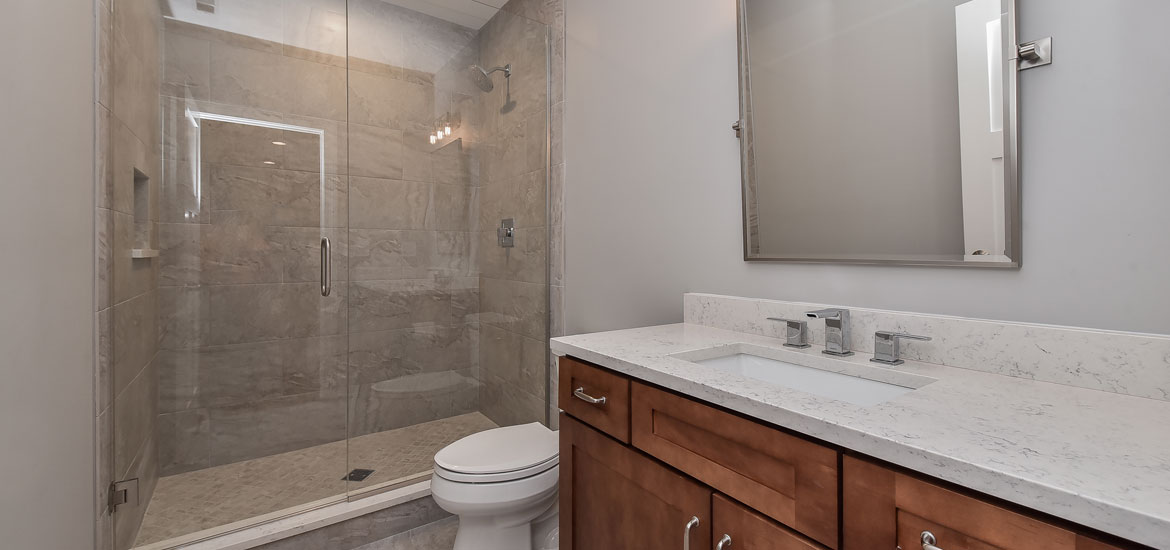 Neutral decors are super popular right now. We even have a buzz word for it: Griege.  Homeowners love the whites, grey and warm brown color palette that make a space look modern and elegant. In 2018, neutral bathrooms will still be very much in vogue but with a bit of an organic infusion.
There is a certain unwavering appeal to the natural and organic for our well being. This is why we are drawn to things like aged flooring, weathered tiles, and vintage plumbing fixtures. Homeowners are looking to create some of that natural feel to make the bathroom more relaxing.
The new neutral will have to make way for some organic colors of nature–greens, blues, and warm browns. Expect to see more attempts to bring the outdoors indoors through plants, flowers, and even grass. As for materials–brick, reclaimed wood, and natural stone will find more uses in the bathroom.
There are plenty of creative ways to combine a neutral style with a relaxing organic accent. You can have your wall covered in a leaf tile mosaic, and/or nature inspired wallpaper design, or leave the brick exposed on one wall, or create emphasis with wood accent pieces, or add a skylight to let the sun stream directly inside and bath you in light. There are endless organic bathroom design ideas you can borrow from to create your dream bathroom.
7. Darker Tones Will Pick Up… Though it's Not Their Time Quite Yet
There is a surprising parallel in kitchen and bathroom design trends for 2018. In the kitchen, darker color palate's are starting to pick up especially on appliances and cabinetry. In the bathroom, the same thing is happening.
In a space known so long for its neutral whites and light wood stain colors, it is a bit surprising to see dark shades starting to pick up pace. This includes dark tile flooring, grey painted elegant cabinets, matte black plumbing fixtures and cabinet hardware and even dark painted accent walls.
Many homeowners are hesitant to introduce darker colors into their personal spas oasis and it is understandable. It is a color that can prove tricky to balance. If used wrongly, it can create a feeling of gloom or result in a painfully awkward contrast. Though the trend is slow, darker tones will continue to get popular as homeowners get more comfortable with it.
8. Unique Tile Shapes
We have already seen how technology is allowing manufacturers to create all sorts of designs using basic tiles, but now they are going beyond the colors and graphics to change the traditional tile shape into something more interesting.
We are seeing a resurgence of the once beloved tiles of decades past, plus a few new designs. No longer are we content with just a subway tile or a large format tile on the wall.  We have lots of tile shapes to choose from once again.  So, look for new and improved hexagon, arabesque, diamond, Moroccan fish scales, or chevron patterns in new colors & textures.  These eye-catching shapes will not just grace the floor either; they will also be used as bathroom backsplashes, on shower walls, and possibly ceiling accents to create the bold accents we so desire.
If you are looking for a safe way of livening up your bathroom, this is one of the best trends to try out in 2018.
9. Bold Accent Walls & Floors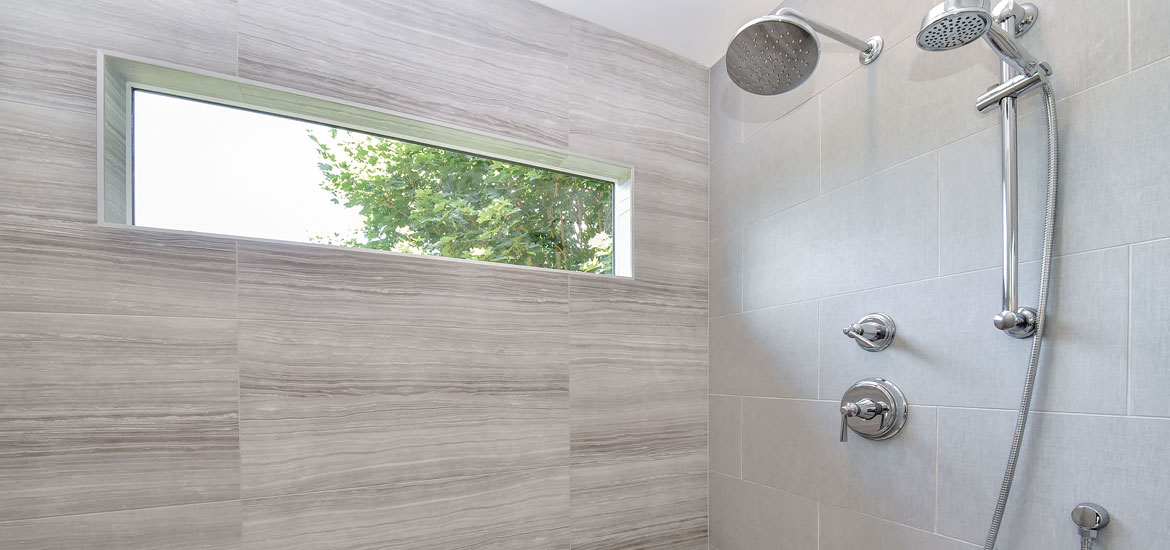 In the modern neutral bathroom, an accent wall is the sparkle that sets the space on fire. It is the defining statement of personal style and character. It is the focal point that greatly determines the mood and look of the bathroom.
If you want to create a gorgeous impact on the floor, then I would look at adding ceramic or porcelain graphic tiles to the space.  With bold patterns and colors, it is a cost-effective way to make any space a show stopper.  But remember, it's just not for the floor!
Maybe you like things to be a little more subtle and natural.  Then consider natural stone in a textured and/or stacked pattern to highlight the shower or an area behind the vanity.  Or look at the point above.  Shaped tiles, in subtle colors make just the perfect accent piece as well.  Plus, you can put them just about anywhere in a bathroom.
So, look for a dramatic accent wall to get even bigger in 2018 as homeowners look unique accents to incorporate into a bathroom remodel or design project. With all this talk of tile, don't forget something as simple as a new coat of paint can have the same effect. If you are feeling a bit creative, why not flirt with the idea of a graphic drawn on the full wall or hang a large painting that covers the entire wall.
Conclusion
One common thread has been evident in all home design trends for 2018; homeowners are looking for ways to break from the mold and be unique in their styling. In the bathroom, they are relying on tech, tiles and bold accents to make their bath time more interesting.